Economic and climate factors, "the most challenging" period for global aquaculture
Rabobank's latest report, Global Aquaculture Update 2H 2023: Between a Rock and a Hard Place, warns that worldwide demand for seafood is softening, while feed costs are expected to stay high. The slump in shrimp demand may even get worse in 2H 2023 as Chinese demand softens.
El Niño, a cyclical ocean current along the Pacific coast of South America that affects weather worldwide, has created conditions leading to the cancellation of the first fishing season in Peru. This, Rabobank says, is creating an acute fish meal and fish oil shortage. Aqua feed prices will be supported due to this scarcity of fish meal and oil, the report concludes.
On the demand side, the report finds, soft demand driven by inflation in the US and Europe is continuing, with salmon appearing relatively better placed than shrimp. Chinese demand is not recovering from the pandemic as fast as expected, resulting in low protein prices and high inventories.
Above article are excerpt from:
https://www.fishfarmermagazine.com/news/aquaculture-sector-faces-tough-times-bank-says/
Pioneer Group launches new bearing to support aquaculture farmers in this difficult period. The new energy-efficient bearing is designed especially for 1HP/2HP aerators, comparing with traditional bearing can reach power saving to 7% to 11%. It's equipped with groove ball bearing which is more durable and easier to maintain and replace.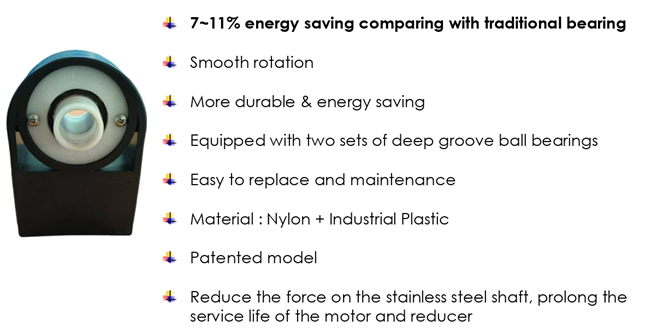 For the tough time when global economic downturn, this new design is definitely great helper for indispensable cost-down. Feel free to contact us if you're interested in and know more : email us sales@pioneer-tw.com.