Automatic Feeders
Description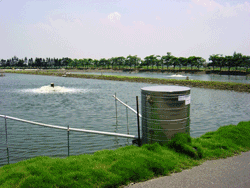 Specification
Model

HP

Phase

Voltage

Discharge




Caliber




(Inch)

Max. Jetting




Distance




(m)

Area Max.




Efficiency


(m2)

Weight




(KG)

Capacity




(KG)

Fabricated




Dimension




(cm)

20/40'




Container




Load

PF-612

¾

1

100V ~ 240V

2

12

81

28

120

70x70x100

48/102




Sets

3

220V ~ 480V

PF-618

¾

1

100V ~ 240V

2

12

81

36

180

85x85x100

36/78




Sets

3

220V ~ 480V

PF-621

¾

1

100V ~ 240V

2

12

81

38

210

85x85x115

32/68




Sets

3

220V ~ 480V

PF-624

¾

1

100V ~ 240V

2

12

81

40

240

85x85x122

32/68(HQ')




Sets

3

220V ~ 480V
Feed Size from 0.5~3MM

Outdoor Automatic Fish Feeder
Characteristic:
Double powerful blowing outlets blow feeds far and covers wide area.

Single roller distributor can adjust required feeding quantity.

Exclusively centrifugal motor.

Adopt multi-bladed and aluminum-bladed fan with stable operating.

Can be fitted with timer & the Device With Minutes & Seconds, which will help feeding conveniently, and reduce the waste of overfeeding for creating a better water quality, which benefit to shrimps/fishes farming.

Applicable for feeding any kind of fish.

Stainless steel housing, weather proof and high durability.
Blower




Metal Feed Spoon