High Head Dewatering
Description
Features
Two features (Water delivery and extraction) in one design, it can be applied as a landed water pump by removing the strainer and connecting a check valve.

Water-cooling jacket design makes no overheat after long time operation, and impeller is designed regards to slicing concept for high water volume and high head.
Application
Lifting of well water and underground water, aqua farm, agriculture irrigation, hydraulic engineering and drainage of subway...etc.
Performance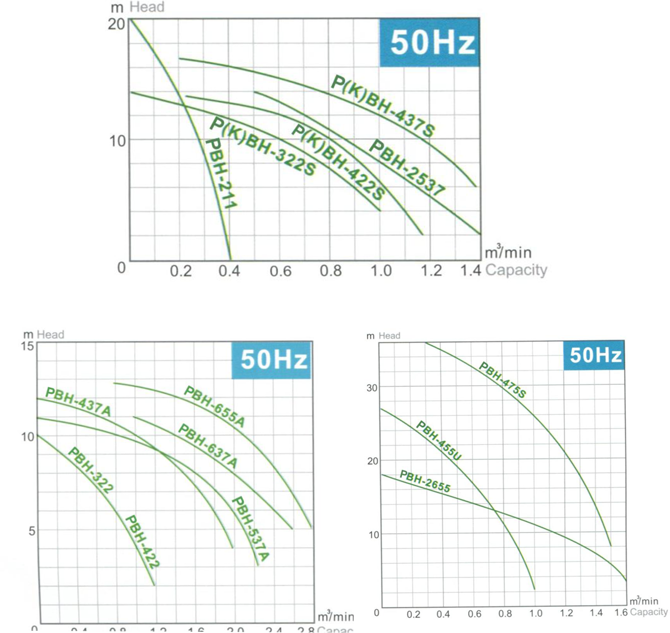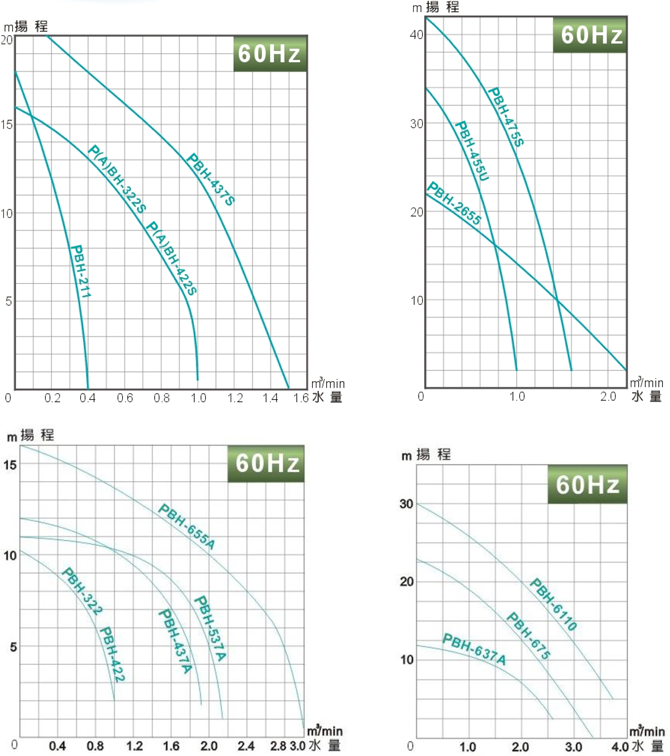 50HZ Above Head of 15 Meter Is Applicable RPM-3000
Model

Power
HP (kw)

Discharge
Inch

PH
φ

Pole

Standards

Max. Dia. mm

High
mm

Weight
(kg)

Head
(m)

Capacity
(m3/min)

PBH-211A

1½ (1.1)

2"

1φ / 3φ

2

9

0.2

180

490

28

PBH-322S

3 (2.2)

3"

1φ / 3φ

2

9

0.5

245

530

45

*PABH-322S

3 (2.2)

3"

1φ / 3φ

2

9

0.5

245

530

45

PBH-422S

3 (2.2)

4"

1φ / 3φ

2

9

0.5

245

530

45

*PABH-422S

3 (2.2)

4"

1φ / 3φ

2

9

0.5

245

530

45

PBH-437S

5 (3.7)

4"

3φ

2

11

1.0

270

680

65

PBH-455U

7½ (5.5)

4"

3φ

2

17

1.0

270

680

70

PBH-475SA

10 (7.5)

4"

3φ

2

23

1.0

380

840

90
*Note: The Model PKBH-322S, PKBH-422S & PKBH-437S, Their Inside Material Is Different From PBH-322S/PBH-422S & PBH-437S
Below Head of 15 Meter Is Applicable (RPM-1500)-4P Dewatering Pump
Model

Power
HP (kw)

Discharge
Inch

PH
φ

Standards

Max. Dia. mm

High
mm

Weight
(kg)

Head
(m)

Capacity
(m3/min)

PBH-322

3 (2.2)

3"

3φ

6

0.6

245

530

45

PBH-422

3 (2.2)

4"

3φ

6

0.6

245

530

45

PBH-437A

5 (3.7)

4"

3φ

7

1.0

270

680

70

PBH-537A

5 (3.7)

5"

3φ

7

1.2

270

680

70

PBH-637A

5 (3.7)

6"

3φ

5

2.0

290

815

79

PBH-655A

7½ (5.5)

6"

3φ

8

2.0

290

920

85

PBH-675

10 (7.5)

6"

3φ

10

2.0

380

970

122
Below Head of 15 Meter Is Applicable (RPM-1500)
Model

Power
HP (kw)

Discharge
Inch

PH
φ

Standards

Max. Dia. mm

High
mm

Weight
(kg)

Head
(m)

Capacity
(m3/min)

PBH-322

3 (2.2)

3"

3φ

6

0.8

245

530

45

PBH-422

3 (2.2)

4"

3φ

6

0.8

245

530

45

PBH-437A

5 (3.7)

4"

3φ

8

1.2

270

680

70

PBH-537A

5 (3.7)

5"

3φ

8

1.3

270

680

70

PBH-637A

5 (3.7)

6"

3φ

6

2.0

290

815

75

PBH-655A

7½ (5.5)

6"

3φ

8

2.0

290

920

85

PBH-675

10 (7.5)

6"

3φ

12

2.0

380

970

122

PBH-6110

15(11)

6"

3φ

17

2.0

380

1000

130
| | | |
| --- | --- | --- |
| 60HZ | Above Head of 15 Meter Is Applicable | RPM-3600 |
*Note: The Model PKBH-322S, PKBH-422S & PKBH-437S, Their Inside Material Is Different From PBH-322S/PBH-422S & PBH-437S
Model

Power
HP (kw)

Discharge
Inch

PH
φ

Pole

Standards

Max. Dia. mm

High
mm

Weight
(kg)

Head
(m)

Capacity
(m3/min)

PBH-211A

1½ (1.1)

2"

1φ / 3φ

2

12

0.2

180

490

28

PBH-322S

3 (2.2)

3"

1φ / 3φ

2

12

0.5

245

530

45

*PABH-322S

3 (2.2)

3"

1φ / 3φ

2

12

0.5

245

530

45

PBH-422S

3 (2.2)

4"

1φ / 3φ

2

12

0.5

245

530

45

*PABH-422S

3 (2.2)

4"

1φ / 3φ

2

12

0.5

245

530

45

PBH-437S

5 (3.7)

4"

3φ

2

12

1.0

270

680

65

PBH-455U

7½ (5.5)

4"

3φ

2

22

0.6

270

680

70

PBH-475S

10 (7.5)

4"

3φ

2

25

1.0

380

840

90