Large Axial Flow Pump
Description
Below Head of 5 Meters Is Applicable.

Feature
Axial flow design to meet large flow capacity, energy saving and easy installation.

Easy to operate, no need to use high voltage power supply and less vibration and noise caused.

Pump body and motor frame/casing are made of alloy copper and stainless steel to raise durability and wear-resistance.

Economical type (cast-iron made) are available for customized requirements.

Dual mechanical seals are adopted for higher wear-resistance in seawater, muddy liquid and wastewater.

Pump outer casing, motor frame and shaft are made of stainless steel. High precise screwing positions are designed to easy disassemble and maintenance.

Inner cable wires and cable base are upgraded by filling EPOXY to raise humidity-resistance.
Application
Agriculture Irrigation, drainage of fishing pond, aqua farm, subway, and large flow capacity in industries, flood control...etc.




Performance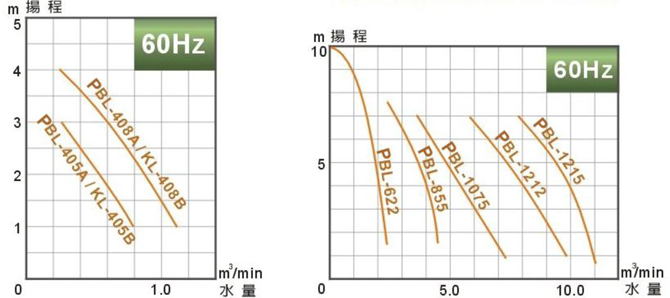 Specification
Model

Power




HP (kw)

Discharge




Inch

PH




φ

Pole

Standards

Max. Dia.




(mm)

High




(mm)

Weight




(kg)

Head




(m)

Capacity


(m3/min)

PBL-405A

½ (0.5)

4"

1φ / 3φ

2

1.5

0.7

240

470

28

PKL-405B

½ (0.5)

4"

1φ / 3φ

2

1.5

0.7

240

470

28

PBL-408A

1 (0.75)

4"

1φ(220V)




3φ

2

1.5

1.0

240

490

28

PKL-408B

1 (0.75)

4"

1φ(220V)




3φ

2

1.5

1.0

240

490

28

PBL-622

3 (2.2)

6"

3

4

3.5

2.0

290

740

70

PBL-855

7½ (5.5)

8"

3

4

4

4.0

340

920

120

PBL-1075

10 (7.5)

10"

3

4

4

5.5

370

1000

180

PBL-1212

16 (12)

12"

3

4

4

8.0

430

1080

225

PBL-1215

20 (15)

12"

3

4

4

10

430

1100

236
Model

Power




HP (kw)

Discharge




Inch

PH




φ

Pole

Standards

Max. Dia.




(mm)

High




(mm)

Weight




(kg)

Head




(m)

Capacity




(m3/min)

PBL-405A




PKL-405B

½ (0.5)

4"

1φ / 3φ

2

1.5

0.7

240

470

28

PBL-408A




PKL-408B

1 (0.75)

4"

1φ(220V)




3φ

2

1.5

1.0

240

490

28

PBL-622

3 (2.2)

6"

3φ

4

3

2.0

290

740

70

PBL-855

7½ (5.5)

8"

3φ

4

4

3.5

340

920

120

PBL-1075

10 (7.5)

10"

3φ

4

4

6.0

370

1000

180

PBL-1212

16 (12)

12"

3φ

4

4

8.0

430

1080

225

PBL-1215

20 (15)

12"

3φ

4

4

9.0

430

1100

236

PBL-1230

30 (22)

12"

3φ




(Y-△)

4

5

14.0

650

1300

386